CC ESports (@esports_cc) | Twitter
*Edit 1: I published the next article (January 7th 2017). Please read also: Contract of CC ESports and the owner's fake livestream
*Edit 2: the owner "Carter Schwenk" was arrested by Gresham Police Department. Bail $5,000. 
Eh Yo, CaptainJack! Hey everyone, this is CaptainJack (@CaptainJackSSB4) here! 
Today, I'd like to explain what happened to me regarding sponsorship with CC ESports, to alert those who would be able to find sponsorship in the future. I'm going to talk about what I felt, as a Japanese. Because, this kind of trash scam would never happen and couldn't even be imagined to happen in Japan.
Before starting, I appreciate your huge concern and your support about this issue on Twitter and Reddit etc. So let's get into the subject!

Show the tweet
Summary of how this issue happened and ended
I'd like just list what happend in a chronological order.
I got an reply from CC ESports on Twitter asking about 5 players including me if we were in search of sponsorship
I replied that I strongly need a sponsor
We talked through DM over contract condition. Pretty attractive. (I'll tell it in detail later)
He wanted me and my wife to come to Genesis 4 then sign the contract, so he wanted my verbal agreement. 
After asking him some questions including his source of capital, I told him ok if the contents of contract will be effectuated in real. I told him also that I would show the contract to top-line personalities of the Smash community, such as Blur, Toph and Armada. He said ok. Then he wanted me to post on Twitter to announce my sponsorship. (The tweet of "I'm happy to announce that... " on the picture above)
I got a ton of replies and DMs, saying it is a huge scam PLEASER DON'T SIGN CaptainJack. A thread was created on Reddit and had a lot of comments (84 as of now)
I received his contract. I showed it to Blur and Toph. Found out it is too good to be true and he might not have any way for payment.
I told him their opinion and the fact that I kept receiving replies and DM not to talk to him anymore, and that I wanted to stop our conversation there. But he was still insistent. To test him, I tried to ask him to send me USD5000 for future tournament expenses first, before even signing. (I know my proposal was pretty unfair. But USD5000 seemed a minmum condition to continue to talk with him already, to make him prove his paying capacity under tons of criticism) 
He unexpectedly agreed. But kept saying random things again and again and asked me to call him to the US so many times.
Finally he started to say Mang0 is about sign and will be streamed soon. I told him to ask Mang0 himself if it is real (sorry Mang0 for bothering you for this kind of talk) 
I got some replies from people saying CC ESports is completely a scam and I should block them
I block the Twitter accounts for both team's and individual's
In the beginning, this was the entire story of what happen to me during these three days.
What he wanted to provide me as a sponsor
His proposal was too attractive to the point it I wondered how it will be possible since we just started to talk on DM. Below is what he wanted to provide me as a sponsor. 
Any expenses relating to tournament (flight, hotel, tournament fees) 
Gears to stream (microphone, headset, MacBook Pro) 
Wife's expenses to company me to tournaments (not every time but 50-75% of them)
USD50 weekly fixed salary
Tournament high placement bonus (+20% of earnings for top 8, +50% for top 3, +100% which means doubled for 1st place *to be discussed when the winnings are quite high like more than USD10,000) 
Support on moving to the US 
Yes. It seems really attractive, but too good to be true. However, I believed his words in the beginning, as I already told him I would show the contract to personalities, so I couldn't imagine he would even lie on it. 
What he wanted in return as a sponsor
Becoming a team leader of their Smash department
Participation to their official tournaments
Playing Smash 4 as well
Paying them certain amount of the winnings (was 20% at first, but became 0% after I told him no major teams take any percent from the winning)
Paying 25 cents per Twitch subscribers, 10% of donations
It seemed reasonable, not that strange even though it's not common for sponsors to cut players' payouts or works on Twitch. Only if, it was true. 
What I felt suspicious in his words or behavior
As people kept pointing that he is a scam, I definitely felt a feeling of strangeness sometimes. As someone who got conned badly in the past, let me tell you what I felt "weird" in his words or behavior.
He tried to push me to sign soon. He wanted to me sign 2-3 days since the day he contacted me first.
Plans were amazing, but source of capital was unclear.
His proposal was reasonable great at the beginning, but became incredibly nice to be true little by little for current me, who don't have any remarkable record yet unlike before.
He kept asking me to call him numerous time although I say no.
He wanted me and my wife stay at his place when he finds one in somewhere in California. It would lead to a sexual crime.
He sent me a contract little by little by partial video clip. His voice was not enthusiastic at all.
I got informed of his past behavior from some people, such as he harassed girls on boards etc.
Finally, he started to say an obvious lie like Mang0 is about to sign, which can be easily confirmed its truth or falsity. And that was crucial.
He DMed me from 3 different similar accounts randomly. 
References
These are their official Twitter account used to contact me.

Blur tried to give me an advice. As he is a top trustworthy person, that was heavily helpful.
Real conversation with the owner of CC ESports, just before I blocked him. 
He suddenly began to apology, but everything was too late. (*Please be informed that his phone number is shown on his website)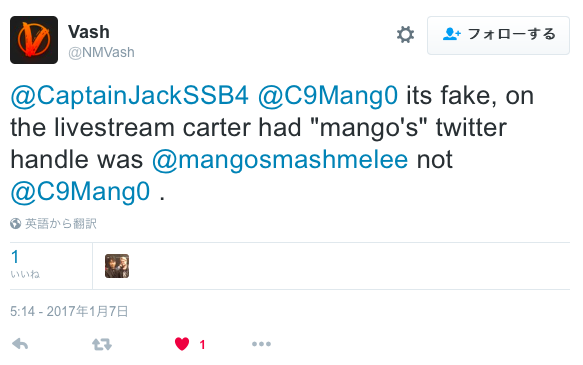 Apparently he did a livestream with "Mang0", however he used a fake twitter account by pretending it is real Mang0.
Reddit thread
Alert and comment to future professional Smashers
Of course I knew some pro players had some trouble about sponsorship with suspicious teams, but I didn't expect to have it as my own issue. I don't understand why people would do such a dirty thing, but there are guys who exist that are mean in reality. 
Related article: Mew2King Leaves EMP, Alleges Failure to Pay | Smashboards
Sadly, there are con men anywhere in the world. As you guys might have read in my first article, one of the biggest reasons I couldn't return on the scene was because I got conned so bad.
Their proposal always seems attractive enough to make you believe, even irresistible to think of denying sometimes. However, I strongly recommend to you to keep your cool, just stay cool before deciding to sign any teams. Just ask someone trustworthy about the teams that are approaching you. You are led to an appropriate place or have a good advice to make a better decision. 
Let's be aware of illegitimate teams, you deserve a much better team. Just keep training, going tournaments and showing your passion to Smash. I'm sure there will be someone who pick you up sooner or later!
This unreal offer was sad and unfortunate. Don't be depressed, just be positive. There are million times more guys than this kind of bad ones. Let's keep it up :) 
And please also do keep in mind, therefore I'm still a free agent and in a serious search of a sponsor! Any information and inquiries would be appreciated! 
Contact: FreeAgentCaptainJack (@CaptainJackSSB4) | Twitter
Please read also
The next article added on January 7th 2016