Picture of IKKI (top right), Masashi (top left), Thunders (bottom left) and me (bottom right), taken at KVO2014
Eh Yo, CaptainJack! Hey everyone, this is CaptainJack (@CaptainJackSSB4) here! 
Today, I'm going to talk about "My history-making meetings with IKKI and Masashi".
There are many top players and great contributors but I'd like to focus on them first, because those two guys are especially memorable for me, as I found and introduced them to the world of Smash by myself.
Then let's get started!
History-making meeting with IKKI

Picture from Japan United Smash Festa Round-Robin 3, March 2003
His contribution
I feel that no small amount of smashers might not know about IKKi, so let me start by his introduction.
IKKI, was a powerful Peach main in Melee. I don't hear he's still playing Melee, but is playing Smash 4 for fun, and goes to tournaments also. He is 2-year older than me, which means he is the eldest among notable players. So, he was somehow treated as the eldest brother among us, Japanese smash brothers. 
Being based in Kyoto, he was the greatest contributor to the Melee community in West Japan, as well as one of the greatest contributors of entire Japanese Smash community in its history.
For his personality, he's such an ultra open-minded person like I've never seen before. He's very passionate about organizing things and gathering people. This aspect was super helpful for the community to be honest, unless IKKI I don't think Japanese Smash community has grown as it is today. 
His notable contributions are;
Eldest leader of the Smash community overall

Holding the biggest Smash festa at that time consistently in West Japan

TOing Kessen series

TOing Ketsubato series

TOing Japan United Smash Festa Round-Robin 3 (64 entrants) *above picture
Introducing competitive Smash to other games' community (SF5 etc)

Introducing Smash to the tournament KVO in Osaka

Providing cash prizes and prizes to some tournaments as an individual sponsor 

Organizing very reasonable trips to tournaments in other regions
It's unfortunate he's not known outside Japan as he has never been exposed abroad. He was present on my previous website JACK GARDEN (capitals), where I uploaded Smash videos versus Japanese top players before YouTube has come, but not that much.
Anyway, if there were something like "the Five Gods for Contribution", he'd obviously be the leader. We have so much respect on him.
How I met him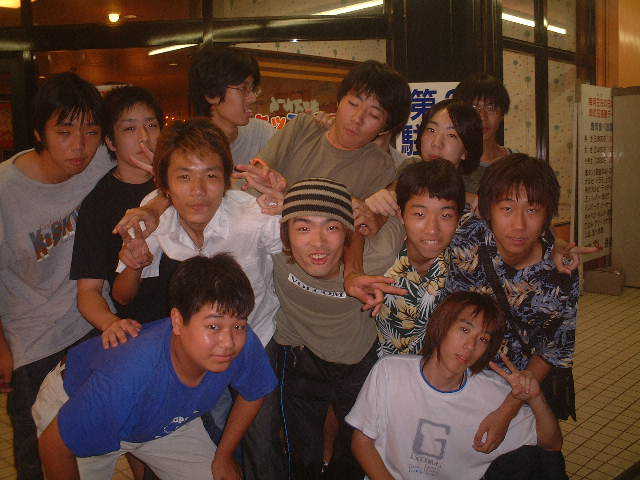 We met on the Internet. In 2002, I was already nationally-known by my performance in Melee succeeding from Smash 64 at that time, and I used to frequent boards of famous websites too. 
One day, I find someone's comment on an ordinary website, which was out of mainstream of competitive Smash community. When I saw the comment attentively, I soon realized he lived in Kyoto. As I lived in Kyoto too, we ended up meeting at his house. Since then, he started to have a smash festa in his big house and performed his huge contribution to the community. 
This is the story of IKKI's first appearance in competitive Smash community, and was the beginning of long-lasting contribution to Smash series. 
When I think back on the moment I found him on an online board, I feel that I'm honored to be the first person who met him and to be someone introduced him into the community. 
- Follow IKKI's Twitter here
History-making meeting with Masashi

Masashi in his high school uniform in around 2003
How I met him
Masashi is a very well-know Japanese player from old school Smash community. He was a Fox main in Kyoto, consisted of "the Japanese Four Gods". He's currently a Could main in Smash 4.
One day - in 2002 according to my memory-, I went to a game shop in a department store "Daimaru (大丸)", near Karasuma station on Hankyu line, to play Melee with unknown people on a playable displayed GameCube.
That's where I met Masashi. 
He played Fox since we first met coincidentally, and he was already great! That was quite surprising for me. Because I was already a top player with accumulated experience since Smash 64, but he could do well against me without knowing any knowledge from Internet or knowhow from the Smash community. 
Because he was not only nice as a Smash player but also very nice as a person, I wanted to meet him again and tell him about the existence of Smash community, compete and get better together. We went home with each other's contact information, as well as a promise of another meeting. Very fortunately, he lived not very far from where I lived, 30 minutes by bicycle, or 20 minutes by car or motorcycle. 
Since that day, he became a very good friend of mine, we played together passionately including his elder brother, Aniki. We met more often since April 2003, where I became a university student which was located only 7 minutes by bicycle from their house. 
His contribution
Picture from Jack Garden Tournament. From left, Michael, Korius, Masashi and Bombsoldier.
From a view point of contribution outside the game, I cannot say Masashi was a great contributor to be honest. He was he was not a person who tried to gather people and organize tournaments, just like IKKI. Instead, however, he played Smash, played Smash and we discovered that he was a beast. As you will know through my future article, me and Masashi were leading members of "The Four Japanese Gods" and recorded high placing in tournaments consistently.
This is especially my personal view, but his playing Fox was really helpful for me, who am a Sheik player. As most of you guys would agree, Sheik's hardest opponent is Fox (at least in NTSC). Since our first meeting he became little by little better, his improvement was so amazing that finally he could beat me very badly. And one day, when Masashi, Aniki and I were playing in their house, he said suddenly "I think my winning rate against your Sheik is something like 90%". That phrase was something that made me rage silently. I didn't get back anything to him, my heart was not calm.
Since that day, I started to work with Fox for real, and finally I ended up having an almost even or maybe positive lifetime record (not sure.. you know good players are always confident haha) on him before our retirement in 2008. Recently I asked him if he remembered he said to me so, but interestingly he didn't remember about it at all. 
Obviously, you can imagine it was very rare and super lucky to meet someone who will become a god-level player just randomly in a game shop in your town. When I think of Masashi, that was just super lucky we met there at that time. That was just a coincidence, but turned into a life-changing meeting after all. I really appreciate it.
For your sake, here's some old videos of Masashi. In 2006, so literally 10 years ago. 
To watch his old videos more, just search "melee masashi" on YouTube.

Karaoke with Masashi in around 2003-2005

In a tournament? in around 2003-2005
At Jack Garden Tournament, together with his brother Aniki, Bombsoldier and his elder brother Disk, August 2005.

At Ketsubato, together with Hoshino Kirby and Kou.

With Amsah, in Epita Smash Arena 2, Paris, February 2008.
- Follow Masashi's Twitter
- Smash Wiki: Masashi
Trivia
Common point of IKKI and Masashi: they both got married with a female smasher.
Masashi is going IKKI's house frequently even these days. Unlike before, with his smasher wife POPPY.
Masashi, IKKI and me gathered together on June 18 2015, in the after party of my wedding ceremony. Among 50 people, smasher occupied more than a half of them. It was amazing to see the friendship connected by Smash is lasting 14 years after first meeting.
They all are smashers!