The Japanese Four Gods
Eh Yo, CaptainJack! Hey everyone, this is CaptainJack (@CaptainJackSSB4) here!
Today, I'm happy to introduce "The Japanese Four Gods" to you.
It might be a controversial subject, but please let me look back on it. I'm going to introduce them in alphabetic order. Order doesn't mean anything. So let's get started :)
What do "The Japanese Four Gods" stand for?
As you guys might be wondering what are "The Japanese Four Gods", I'd like to begin by explaining it.
As in every place and era, there were some most distinguished players in Japanese early Melee community. In Japan, there were 4. In alphabetic order, they are me (CaptainJack), Masashi, Mikael and Rain. They were obviously beyond any other players in Japan, in around 2003-2008.
*aMSa, Rudolph and others are recent players so I don't talk about them here. I'll focus on them someday in another article, so stay tuned!
*Kakera, Otori and other are not Melee players so I don't talk about them here.
CaptainJack

With aMSa in 2014 Autumn
Tournament results
| Tournament | Date | 1v1 Placement | 2v2 Placement | Partner |
| --- | --- | --- | --- | --- |
| Tournament Go 6 | August 21st-22nd, 2004 | 2nd | — | — |
| MLG San Francisco 2004 | September 11th-12th, 2004 | 1st |   |   |
| MLG New York 2004 | October 24th, 2004 | 3rd | — | — |
| @M | February 14th, 2005 | 1st | — | — |
| Koopa Klaw Tournament | February 27th-28th, 2005 | 1st | — | — |
| Dutch Tournament 10 | March 5th-6th, 2005 | 1st | 1st | Reffie |
| Jack Garden Tournament | August 20th, 2005 | 7th | — | — |
| RoofSM | January 4th-8th, 2006 | 1st | — | — |
| XTC3 | April 15th-16th, 2006 | 1st | 1st | Helios |
| Zero Challenge 2 | August 15th-17th, 2006 | 7th | 1st | Isai |
| JST5 | December 2nd-3rd, 2006 | 2nd | 1st | Amsah |
| Epita Smash Arena 2 | February 23rd-24th, 2008 | 2nd | 2nd | Masashi |
| Apex 2012 | January 6th-8th, 2012 | 129th | 33rd | Kou |
| Battle Gate Way 5 | August 30th, 2014 | 9th | — | — |
| Eclipse 2 | October 21st-23rd, 2016 | 25th | 25th | Ryuker |
| Kickstart 13 | November 19th, 2016 | 17th | 5th | MISTRRLOVE |
In addition to the above results overseas, I recorded the victory 3 years in a row at "Japan United Smash Festa Round-Robin 1, 2, 3" in 2001-2003, and took 2nd place at Ketsubato series 2 in 2006.
Comment
It's a little shameful to make a comment on myself, but let me try.
Since changing from Luigi I became a Sheik main. My friend Thunders played Luigi too, but his Down B raise was too insane that I had to give up to became the #1 Luigi. So that's why I changed my main.
I also played Doctor Mario and Ganondorf as a secondary in tournament, played a great DK as well but never in tournament. Generally, I played every character pretty good except some, Yoshi, Fox, Falco and Peach etc.
After having satisfying records in Japan, I became the only Japanese player traveling around the world for Smash. And that was successful. Thanks to that journey, I am also the only Japanese player who was focused on Smash Documentary on YouTube.
I had quite a positive record against Mikael (he started to play Smash to beat me so it's normal), and even record against Masashi and Rain. As their mains were Fox, I think I was doing very well, I can't complain.
Trivia
According to Smash Wiki, I'm one of the two players who have a positive record against Armada (2-0).
Related article
- Follow CaptainJack's Twitter
- Smash Wiki: CaptainJack

With Baxon, French player. 2006.

With Masashi in 2014, at KVO
Masashi

Taken in a tournament in around 2003?
Tournament results
In addition to the above results overseas, he placed 2nd at "Japan United Smash Festa Round-Robin 3" in 2003, and 1st at Ketsubato series 2 in 2006.

Comment
Masashi was a Fox main in Kyoto, that I met randomly in a department in our hometown.
In tournaments, when he took 1st I took 2nd, and when he took 2nd I took 1st. It was not only because we both were The Four Gods, but also because we lived pretty close and often entered the same tournaments. When there were Doubles in tournaments, we were of course teaming together. We were definitely good rivals, but good partners as well.
Regarding his characteristics, as mentioned on Smash Wiki, he was a representative of slow-but-great Fox of all time.
He is the younger brother of Aniki and, like his brother, does not wavedash.
But yeah..., this is actually too exaggerated though. The truth was, he did wavedash sometimes but couldn't do waveshine stably. So please remember he was not that extremely bad technically. lol
We used to play very often together as we lived pretty close, less than 30 minutes by bicycle. He was not only a god-like Fox main, but also a great at almost every character. Beside his secondary Marth, he liked to play Roy and Ganondorf especially. Matches were so close every time, that was super fun to play with him.
Related article
I focused on him in a previous post, so please also have a look. I'm writing a long story about him from when and how we met.
- Follow Masashi's Twitter
- Smash Wiki: Masashi

With Ken, in around 2006?
Masashi saw Ken when he traveled to Japan during his stay at Mikael's house.
With a Norwegian beauty (smasher), at ESA2, in France 2008

With Amsah, at ESA2, in France 2008
We went to ESA2 and teamed together. He finished 4th in Singles, 2nd in Doubles.
Mikael

With ChuDat, in around 2006?
Tournament Results
3rd: Japan United Smash Festa Round Robin 3
?th: Jack Garden Tournament
?th: Super Smash Opera
How he started Smash
Mikael and I were very good friends, even outside Smash. Although I lived in Kyoto (West Japan) and him in Yokohama (East Japan), we got to know though online boards of Pokemon Gold / Silver when I was 14, which means he was 12. We were friends of Pokemon in the beginning, but since I played Smash 64 with him he became interested in Smash, and started to play Melee with the goal of beating me. It's incredible he could make it to The Four Gods since then, because he was a king of noobs when we played 64 for the first time; he couldn't even be close against me event though that was a team battle, me vs him and our other friend.
His play style
Since starting Melee he chose Peach as his main for some reason, and became super powerful. He was definitely solid. Even today, Japanese players who know him are wondering what Mikael vs Armada would be like, if he still played.
He once tried to switch his character to Falco, but couldn't surpass his former main Peach so he kind of quit playing Falco. Overall, he continued to play Peach as his main character.
Personality
For his personality, he was a very smart and impressive person. In fact, he influenced many players not only in Smash but in real life. Especially, I remember that he was the first guy who started to say; be attentive to your appearance (= don't be too otaku-looking and acting like an unpleasant nerd). Because being a neat and nice person obviously helps you to improve faster, as otherwise not many people would ask you to come to tournament / Smash festa together. He dared to say this because sometimes there were even stinky players, which means literally they smelled bad, couldn't have other topics of conversation other than video games etc.
He was also very attentive about his and people's appearance, and even made a tier-list of Smash players' appearance list "in a good-looking order" from 0 to 10. (Fun fact: According to his own opinion, he was 7.)
Trivia
He was also called "Ahiru" which means duck, because he liked a Pokemon Pysduck.
He's worth special mention: he was the only player among The Four Gods who was considered to have no born talent of Smash, but improved by his persistent effort from a noob.
He trained 2 hours in the morning in training mode which seemed unbelievable for me at that time.
He cried alone in toilets when he was beaten by someone in a tournament.
Someday, I refused to have friendlies with his Peach because I hated her D-smash. He felt like crying as he always had been aiming to beat me (I didn't know that story until the day he told me so later)
It's been a while since he's disappeared from Smash scene in 2009 and no one knows his contact today. I tried to send a letter to his address where he lived with his mother, but the letter was returned. The address has been changed.
We miss him so much.

With me, in around 2005?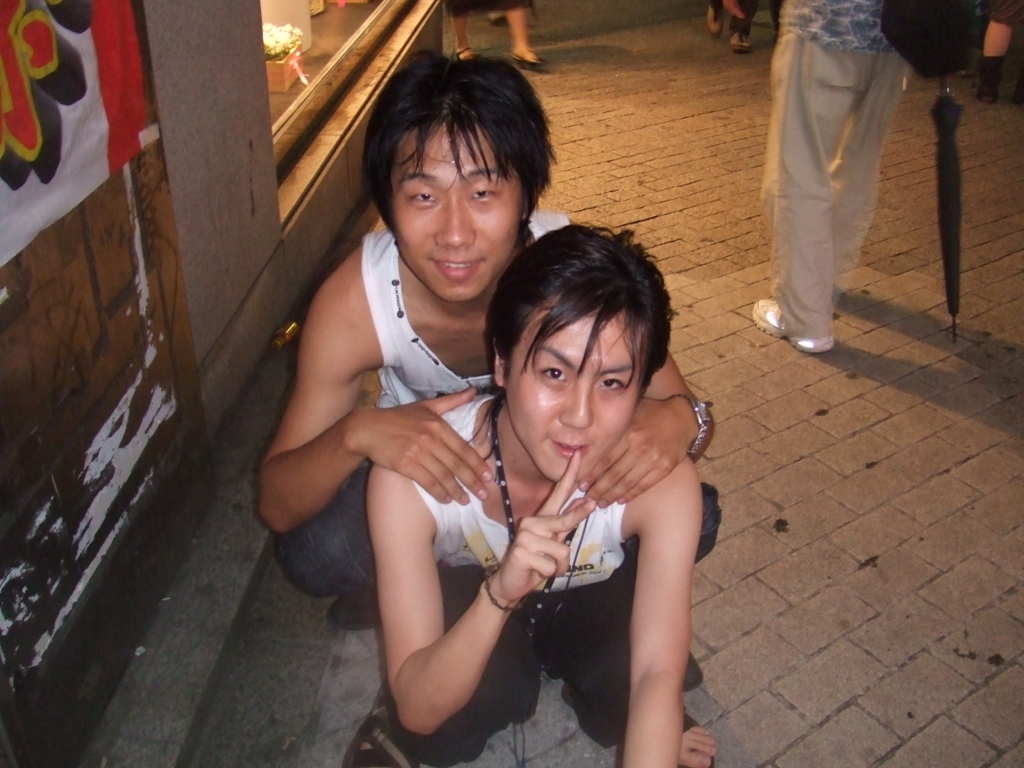 In around 2006
Until his sudden disappearance in 2009 when he lived in my place for a couple of months, we were good friends and often hanged out together, without playing any Smash. I'm waiting his return someday in the future.
Rain

Picture from スマブラプレイヤー大百科『Rain』 | スマブラ攻略まとめ
Tournament Results
4th: Japan United Smash Festa Round Robin 3 etc
?th: SSO
?th: Jack Garden Tournament
General comment
Rain was a Fox and Peach main. He lived in Tokyo and since we were not close friends like me and Mikael, I don't know very much about him, unfortunately. He got along quite well with Mikael, so we can say that he was Mikael's teacher.
To be honest, he was the #1 player of whom I was afraid to play in tournament. He played almost every character by some instinct of Smash, just like me and Masashi. However, despite his born talent, he has been known as "an uncrowned monarch" since long time ago. He's excellent in friendlies, but did worse than he actually is in tournaments.
Of course, he is the same guy who plays Brawl and Smash 4. He's one of the Japanese smashers who keeps playing Smash series.
Contribution to community's growth
He was not only a god-level player, but also a TO of Pio Suma (predecessor of Umebura) and SRB and always been trying to grow the community.
He's currently an employee and a sponsored player of Sun-GencE, which runs DetonatioN Gaming. I'm very happy to see him working in an e-Sports industry. :)
- Follow Rain's Twitter
- Smash Wiki: Rain

With Nago, around 2005? (left)
Extra: Other members
To be more exact, the position of Mikael has been changing according to the period.
Before Mikael reached to top-level, in my opinion, Brown Mario, Mario player, was one of the members of "The Four Gods". However, it might be arguable because he only took 11th place at the famed Japan United Smash Festa Round Robin 3, where CaptainJack placed 1st, Masashi 2nd, Mikael 3rd and Rain 4th respectively. Although, I think East Japan smashers such as me and Masashi, and other players were sure and certain he could be a God before Mikael's rise, because we used to play a lot of friendlies regularly and felt he was clearly distinguished from other players.
After Mikael's retirement... or disappearance, TANI replaced his position and started to be considered as one of the best players in Japan. He played Marth and his data-based play style was really effective. He was not a good player in the beginning, but showed an amazing rise to make it to The Four Gods in the end.

Brown Mario at Japan United Smash Festa Round-Robin 3, March 2003 (left)
TANI with me, in 2014 Autumn
Mikael and TANI, they were similar in a way and had a common point.
Fun fact: a goal of both of them was to beat me, and they were a newbie at their first appearance in competitive Smash community, but became top professional players by persistent effort in the end.
Extra 2: The Four Gods against other Gods
The Japanese Four Gods had roughly same level as Ken, Isai, Azen, EK, Amsah and Armada. I avoid to rank them here, but all of us were clearly distinguished from others, and were very close each other.
Extra 3: Retirement
Since the release of Brawl, all of us retired from Melee for various reasons. One retired for work, one switched to Brawl, one switched to other games, one disappeared... Because of the retirement of these talents, Japanese Melee scene has had a difficult time until recent days.